Each cast is made individually to order, so please allow up to 14 days for delivery. If you require a cast more urgently, or want to order more than one, please e-mail us and we will do our very best to provide exactly what you need.
Our first cast is:
Head of a Hawk from the Open Air Museum at Karnak Temple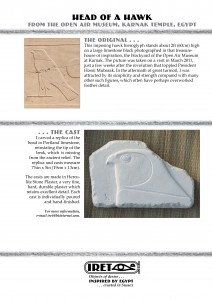 We were bowled over by the quality we were able to achieve with these casts from one of Mick's individually-carved stone replicas — every last detail in the surface of the Portland limestone was picked up by the mould and transferred to the special hard plaster we use. The casts cost £28 plus delivery — call 01403 710794 or e-mail us (iret@btinternet.com) with your location and we will work out a total price for you.
(Click on the panel at left to have a closer look. When you're done, click the back-button on your browser to return to the Casts page)

Website content © Mick & Lynn Oakey 2017